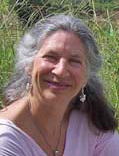 Elaine's reality extends beyond the world of the five senses to the unseen subtle worlds. She works with energy to effect the transformation and evolution of the planet and all beings on it.
A global citizen, Elaine travels extensively, following her inner guidance as to where to be, what to do in any specific location and when to be there. She currently spends most of her time in America and Australia, focused on projects that shift consciousness and initiate new paradigms. A committed and dedicated energy worker, she allows her body to be used as a conduit for other dimensional energies, working through her to create balance and harmony in the all realms.
In 1992, after twenty years of work as a career consultant and life planning coach, Elaine discovered Energetics, or the study and use of multi-dimensional energies and their interplay with life an Earth. She now focuses full time on this expanded reality and assists others to awaken to this reality.
She has just released her first book, DIMENSIONAL AWAKENING, A Blueprint for Conscious Evolution, sharing her personal journey to multi-dimensionality, to energy work and to a transforming world.  From the third dimensional or physical perspective this is referred to as enlightenment or ascension, from the energetic perspective, this is evolution.
Elaine has spent her life committed to making the planet a more harmonious place – whether as an exchange student to France or a teacher of English in Japan, on school boards, community political organizations, or non-profit humanitarian organizations, as a Research Assistant to the Anthropologist, Dr. Margaret Mead, a student and teacher of Holistic Health, as the Director of a Peace Foundation, or as a consultant, she has sought the betterment of the planet. Each step on her path, though seemingly disconnected, inexorably led her to this place and time and to the work she is doing now. Forty years ago, a psychic told Elaine she would write a book. She laughed and thought, "Oh sure.  What will I write about?" Today, that book is a reality and reveals the path that one seemingly ordinary daughter, sister, mother, housewife, walked, a path that Elaine believes many other ordinary folk will walk, a path to a greater awareness and perceptivity, a path to multi-dimensionality and all the gifts it offers, and the possible evolutionary path of all of humanity.